Restaurant Phone - 248-627-6790 ♦ Catering Hotline - 248-467-4701
Welcome to O'Malley's Galley!
This is not how we expected to be spending our 20th anniversary celebration.
We'd like to thank everyone in our community for the support shown through this situation. We've decided to close for the time being. We no longer feel it's worth the risk to our staff or our customers to stay open for now. We will announce when it's time to reopen. Stay safe.
I'd also like to extend the open invitation to anyone in need of cooking advice to message me, Dennis John O'Malley II directly. Anything you need to know about cooking techniques or recipes don't hesitate to ask. I'm always happy to share knowledge and I have a library of cookbooks to reference in addition to over two decades years of professional cooking experience.
If you'd like to help support the restaurant and staff and treat yourself or a loved one when this storm blows over, e-gift cards can be purchased at the pinned post at the top of our facebook page.
https://www.toasttab.com/o-malleys-galley/giftcards
These e-gift cards can be sent via text or email and can be redeemed by scanning with our point of sale device when we reopen.
We are proud and thankful to be part of such a supportive community.
Thank you.
The O'Malleys and crew.
We are a family owned and operated restaurant and offer full catering. Whether you would like us to host your event in our facilities or have it delivered and served in your own home, you'll be glad you chose us!
All of our recipes are made from scratch, including our fresh baked bread made daily. Our desserts are also made in house so if you haven't tried one of Michele's desserts, you absolutely do not know what you are missing!
We use the finest quality of products including Icelandic Cod, Certified Angus Beef Products, and fresh produce purchased from local vendors. Our sauces are made for each order, not by the batch and our seafood is among the freshest anywhere. So sit back, enjoy your time out, and let our family take care of your family!
The O'Malleys,
Dennis, Michele, Denny, Ashley, and Brian
Contact us!
Fields with
*
are required!
Visit us!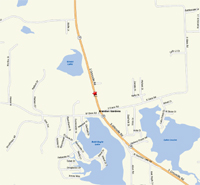 (Click for directions!)

We are located on S. M-15 (Ortonville Road), just North of Glass Road.
We are south of Grange Hall Road.